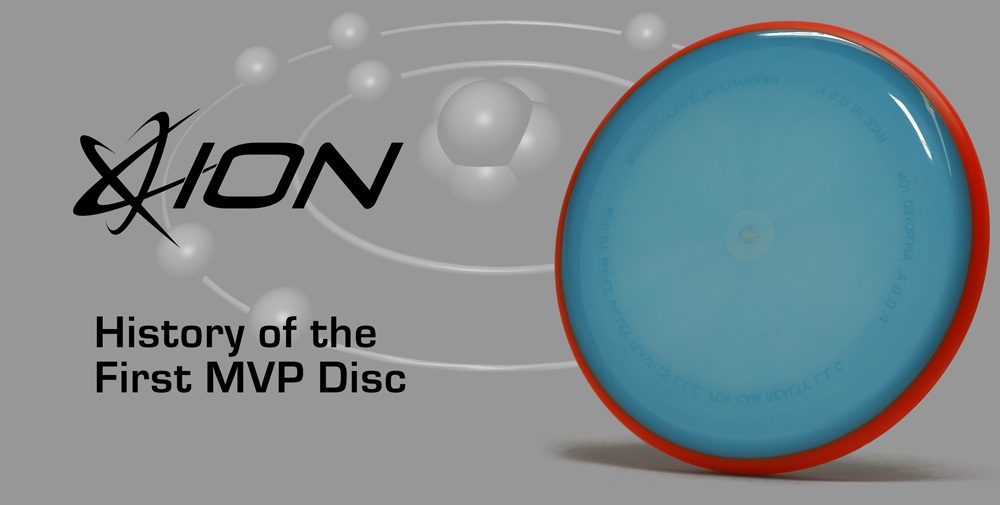 History of the Ion Putt & Approach
First Generation (December 2009)
The very first production run produced by MVP was the Ion, which featured a blue central core and red outer rim.   A total of about 375 of these famed first runs were produced.
Approximately 375 produced
Weights 166-168g
"CAM Realty, LLC" Tooling
Soft plastic
Bottom not sandblasted
Bottom bead is covered with flash
Second Generation (January 2010)
2nd-generation-overmold 2nd-generation-ion cam-realty-tooling
The Second generation of the Ion was produced in 5 colors: blue, green, red, yellow, and flesh orange.
Approximately 1500 produced
5 colors: blue, green, red, yellow, and flesh orange.
Weights 171-173g
"CAM Realty, LLC" Tooling
Soft plastic
Sandblasted bottom
Bottom bead more exposed, but still have moderate flash
Third Generation (May 2010)
Approximately 10,000 produced.
Ion hot stamp debuted in the Third generation.
A few different configurations:
The most common configuration would be similar to second generation, but cleaner bead (~70%)
Next configuration was double ring sprue (~20% and only produced in Medium Ions)
Final Configuration was double ring sprue as well as 2 air ejectors (less than 10% produced and only in Medium Ions). Occurred after we produced the Vector.
Fourth Generation (April 2011)
With a Classic Mold configuration (overmold engravings) available in opaque Proton plastic
Approximate amounts produced:
1500 Soft Ions in black, white, lime, light blue, and orange ranging from 166-175g
400 Medium Ions white mediums in the range 163-167g
Fifth Generation (August 2011)
Classic mold configuration and plastic type. First debut of GYRO® Technology in the Ion as a result of the new transparent Proton plastic compound.
The official debut of GYRO® technology – The lighter weight proton cores combined with added weight filler distributed in the rim created the formula for the added gyroscopic spin seen in all GYRO® discs today.
Sixth Generation (January 2016)
This revision maintains the look and feel of the Classic configuration (Gen. 4 & 5) but has been adjusted for molding compatibility with all plastics, including Electron.
Multi-Plastics:
Neutron
Proton, Soft
Eclipse, Soft
Plasma
Electron, Soft, Firm
Seventh Generation (September 2018)
Current mold configuration. This revision maintains the look and feel of the Classic configuration (Gen. 4, 5, and 6) but has been adjusted with the GYRO® Technology patent marking and smaller production markings on the underside of the disc. 7th generation Ions debuted an updated stock stamp with new flight ratings.
Tenth Anniversary Ion (January 2019)
To commemorate ten years from the release of the Ion, a throwback edition of Neutron Ions were produced. Paying tribute to the first run Ions, the 10th Anniversary Special Edition Neutron Ions have a red rim and teal core. Unlike the first run Ions which were blank, these Special Editions feature a triple stamp on top with a single ghost stamp on bottom. The ghost-stamped bottom stamp emulates the tooling seen on first runs but reads "MANUFACTURED BY MVP DISC SPORTS L.L.C. IN MARLETTE, MI U.S.A  P.D.G.A. APPROVED ION PUTT & APPROACH DISC" signifying that these discs are some of the first discs produced in-house at MVP Headquarters in Marlette Michigan. 2,010 of these will be produced to signify the year MVP Disc Sports began, with 375 of them in the 166-167g range to signify the original weight class and amount produced of the first run Ion, with the remaining weighing in the 170s.
Prototypes and Outliers
With a Classic Mold configuration (overmold engravings) available in opaque Proton plastic
The official debut of GYRO® technology.
Approximate amounts produced:
Soft Prototypes – Clear Core; PDGA submitted version (less than 8 produced)
Super Soft Prototype – Clear Core with black overmold (less than 8 produced)
Firm Prototypes – Hazy and stiffer than medium prototype (less than 8 produced)
Clear prototype core with first run red rim (1 known sold to Marshall Street Disc Golf as X-Out)
Yellow second-generation Core with first run red overmold (2 Known, one given to J-Bird)*
Red second-generation Core with red rim first run overmold (3 Known)*
Yellow Core with brown rim (3 Known)*second generation core with first run overmold happened as a result of using the leftover batch of red first run overmold material after the second generation core was made. The brown rim was part of the transition of first run red overmold to black overmold.
Prototype (Smooth bottom) blue core with small center gate with second-generation overmold (15-20 Known)
X-Out First Runs to MST and GGGT (~30-40 between both dealers. "X-Out" was handwritten on bottom)
Second Generation Prototype red medium Ions (~12-15 produced and mostly given to Discpeed for tournament promotion in Clearwater)
Clear Proton plastic in the textured Core (1 Known)
DGR Proton Ion, which was our first custom stamp run ever in September 2011 (fifth generation type)
Textured bottom third generation "Eclipse Proto" Glow Ion (10 produced, April 2011)
Fourth Generation Ion in clear Proton Plastic (only 6 known and pre-patent pending text. Patent Pending came on the Ion with fifth Generation August 2011)
Dynamic Discs exclusive 1,000 Neutron Soft Run (September 2012, fifth generation type)
Throwback Edition Ion (November 2014, fifth generation type, Neutron plastic with throwback Proton stamp)
Making the Ion Hotstamp
In March 2010, we announced a logo contest for the Ion on the now-defunct but luckily archived PDGA Discussion Board. To date there had been very few graphics produced for MVP, and it was a clean slate for designers. Artists' only direction was the now black-rimmed futuristic look of the Ion, a set of names that implied science themes, and the angular MVP Disc Sports logo (designed by co-founder Chad Richardson). Voting went live on April 3rd, with seven options hand-picked by MVP, including submissions from artists Mike Inscho (of the future Axiom Artist Series debut) and ZAM, previously graphic designer for Millennium Golf Discs and HouckDesign, and at the time graphic designer for Disc Nation and Heart of Texas Tour. The submission by Mike Inscho won the forum vote with a well-suited simplicity and futuristic look. However we were struck by a simple edit of Mike's winning submission and the more graphical design by ZAM. We used ZAM's orbit style graphic along with the "Ion" text and icon from Mike. We awarded prizes to both artists for the combined Ion stamp design. ZAM was brought on shortly after to handle graphics and branding, and continues to serve as art director for MVP and Axiom Discs.
ZAM's narrative description of the Ion stamp contest and process:
"I knew the MVP guys as fellow DiscGolfReview (DGR) forum members, and I'd been following their progress with experimentation and finally molding the early Ions. Tons of promise, it was crazy to see forum guys actually make a disc, much less something innovative! So when they ran the contest I thought I'd put my prior experience to work again and, at best, get my work on a second brand and get some free plastic… little did I know! The stamp was designed with very primitive (and probably horrible) 3D modeling, which was very new to me at the time, but produced the right sterile precise look. I wanted some kind of design that emphasized the circle and a rotational implied motion, as the black rim has such a large role in the look of the disc, so I chose a flat-planed atomic orbit. The layout and perspective is actually highly influenced by my Sirius Omega (first run) stamp, trying to imply a triangle pointed toward the target. In looking at atom structures I chose a negative flourine ion, because its simple structure looked right in 3D and it subtly included my signature, three dots in an equilateral triangle, which determined the spacing of orbits. After lots of exploration and modeling in 3D, I had an atomic structure fully lit and rendered. I took that into Photoshop and Illustrator for extensive tweaking and squashing of shading, until I got a semblance of the harsh-lined Ion stamp you see. After the contest MVP asked me to combine my design with Mike's, which had way better typography/icon than mine, and that was the final stamp! A lot of "graphical laws of physics" as I call them were built for the MVP brand from this stamp, and later influenced the rules for Axiom artwork."
Proton Ion Stamp Die Auction
In April 2013 on the DGCourseReview forums (see thread), we auctioned a historic piece of MVP history — the "Proton" stamp die used to full retirement on the early Ions. The die was mounted on a plaque along with a Certificate of Authenticity signed by MVP's Co-Founders. Winning bid on this item was $425.
Narrative Description by co-founder Brad Richardson in a forum response
Many people obviously know about the red rim "first run" Ions. These weighed mostly 166-168g, had "CAM Realty, LLC" tooling, came in soft, and were not sandblasted. These had very little bead and many had flash that covered the bead. There were a total of about 375 made.
The "second run" were black rim and came in five colors: mint green, aqua blue, red, yellow, and flesh orange. These were mostly 171-173g, had "CAM Realty, LLC" tooling, came in soft, and were sandblasted. These ones had a small bead, but had some flash that covered it. It was a little more stable than the first run, but a little more understable than the third run. My rough estimate is that only about 1300-1500 of these were made.
The "third run" came in more colors including lime, bright orange, light blue, purple, white, and black. These all ranged 171-175g, had no "CAM Realty, LLC" tooling, came in both soft and medium, and were sandblasted. The "CAM Realty, LLC" tooling was welded off the mold. Most of these ones had a cleaner, more defined bead which gave it a straighter flight. Most of the textured bottom Ions are in this configuration.
The "fourth run" were molded in the the current mold (i.e. no sandblasted bottom and engraved overmold), but this run had the older opaque Proton plastic. We had about 1200-1500 Soft Ions in this run consisting of the colors black, white, lime, and orange all ranging from 166-175g. This run also had about 300-400 white mediums in the range 165-168g.
The "fifth run" are the Ions in the current configuration and current plastics.
I use quotes around the word "run" mainly because the definition of run is quite vaque. "Configuration" is a more accurate term because some of those configurations had more than one batch or "run". I know the "third run" had 3 or 4 batches over the course of the first year. The first, second, and fourth runs consisted of only one batch each I believe. The "fifth run", that is the current configuration, has had numerous batches over the past years, all of which have been quite consistent.
The evolution of the Ion is quite a fascinating story in our opinion. It's really neat to see the continual improvements from run to run up until the Ion in its current pristine state.
CAM Realty, LLC is the family company that we operated under for the first few months and provided the capital stock. We later formed and moved operations to MVP Disc Sports, LLC.