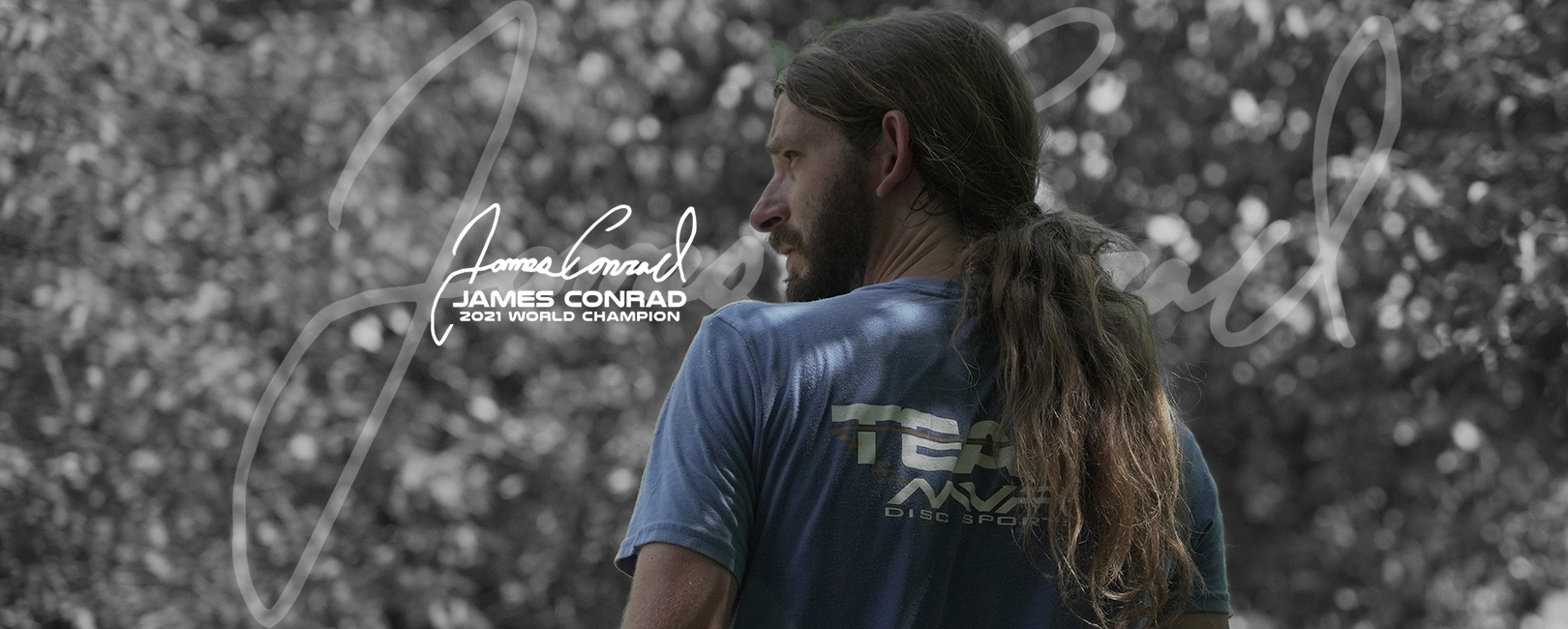 The Greatest Shot In Disc Golf History
History isn't made by settling for anything less than the best. During the final round of the 2021 PDGA World Championships, James arrived at the 18th hole having risen above every competitor but one. He was one stroke behind first place, and his only way to force a playoff? Make a 247 foot blind shot with OB all around the basket. What followed was an achievement that wouldn't just take the disc golf world by storm, it would become a moment of triumph seared forever into our collective memory.
The Win of a Lifetime
Forcing a playoff wasn't enough though. The explosion of energy following the "The Greatest Shot in Disc Golf History" quieted as the two competitors approached the teepad for the first playoff hole – Hole 16. A deafening silence engulfed the gallery as James threw his final drive, which landed just shy of the basket. His opponent would miss the island and watch his disc roll OB. James had done it, he'd won the 2021 PDGA World Championship. Becoming one of 6 MPO players in history to hold both a US Championship and World Championship title.

MVP – Zenith
Neutron
Designed to feel as great in the hand as it flies, the Zenith is a control distance driver with flight numbers of 11 | 5 | -0.5 | 2. With a high power throw, the Zenith will exhibit just enough distance lengthening turn from a flat release before its confident fade kicks in — displaying the ideal flight pattern for a controlled distance drive. And, thanks to its subtle turn, the Zenith can shape some truly impressive lines from an anhyzer release too. Lower power players will find the Zenith to be workably overstable and dependable into any kind of wind. We have a feeling this disc is going to end up in a lot of bags, so grab a Zenith today and see what the James Conrad Line is all about!
MVP – Terra
Neutron
As the next disc in the James Conrad Line, the Terra is here to instill confidence, reliability, and control into your fairway driver game. With flight numbers of 8 | 5 | 0 | 3, the Terra provides the most important thing in disc golf every time you throw it: predictability. You can depend on the Terra to shape lines from all angles — with easily ranged hyzer approaches, straight-to-fade flat drives, and flight extending s-curves from anhyzer all possible. Step onto the tee pad with the confidence of a World Champion.
MVP – Nomad
Electron Soft/Medium/Firm
One of the fun challenges of designing the James Conrad Line was figuring out just what that concept meant to James and MVP. After sitting down with James and talking about his passions, it became clear that the concept of travel and exploration was going to be the bedrock of the James Conrad Line. With that in mind, James wanted to use his Line to showcase some of his favorite places and experiences on Earth. As luck would have it, months before he would go on to win the World Championships in Utah, Arches National Park was chosen as our Nomad concept —James Conrad definitely has some magic to him. 
From there, we had to formulate how to blend the unique themes of the James Conrad Line with those of the MVP brand itself. Mixing science with nature, much like Axiom's representation of art, was definitely something we were looking forward to, and Art Director Mike Inscho was more than up to the task. For the Electron Nomad specifically, Mike's inspiration was to represent Arches with audio-like waveforms — creating a topographical waveform of a trailhead that is close to James' heart. With just enough nods to MVP themes so as to enhance, not overwhelm, the core concepts of the James Conrad Line, the Nomad truly represents the partnership between James and MVP. The results speak for themselves, and we can't wait to see what Mike and James have in store for us next.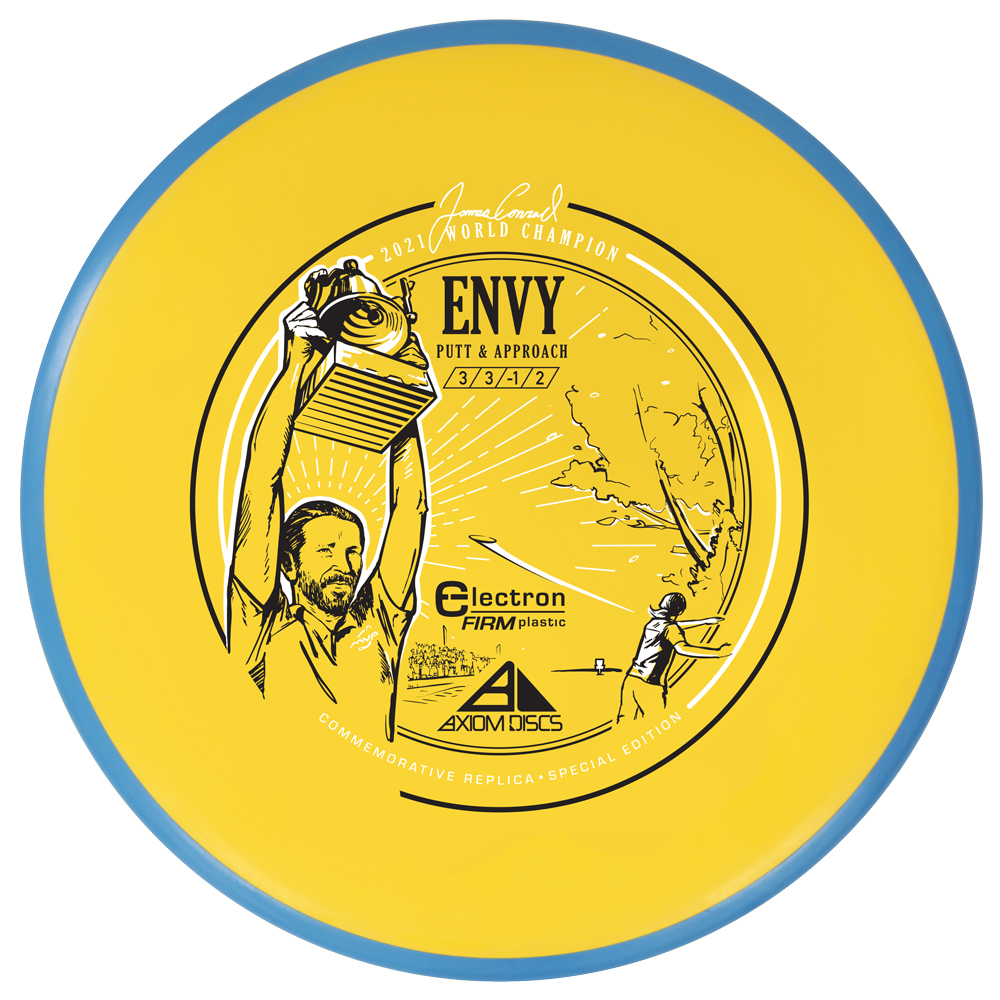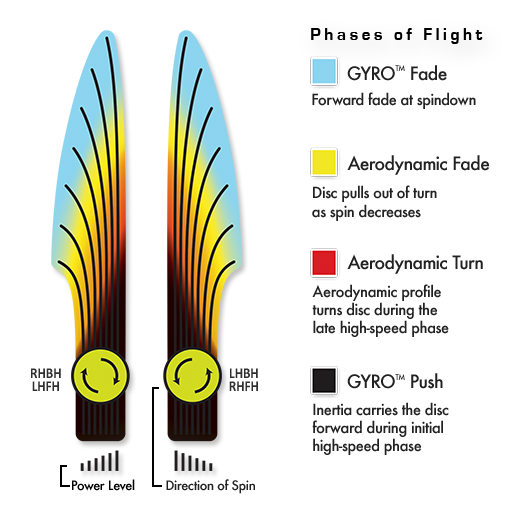 Axiom – Envy Special Edition
Electron Firm
*Deep breath* *Exhale* There is 247ft between you and greatness. Miss, and you are out of bounds. Runner up. Second to greatness. History doesn't remember good tries. History remembers perfection. Perfection requires confidence. Confidence requires trust. Trust is formed in the fires of competition. Trust is not won easily – it is earned. When James Conrad stood at the precipice of greatness, he turned to the Electron Envy. The rest, as they say, is the Greatest Shot In Disc Golf History. Commemorate the moment that will live on beyond us all with an SE Envy in Electron Firm plastic. Mike Inscho renders the moment brilliantly – the thrill of anticipation, the ecstasy of triumph – all captured