March 14, 2016 Uncategorized
2016 Circuit Challenge Announcement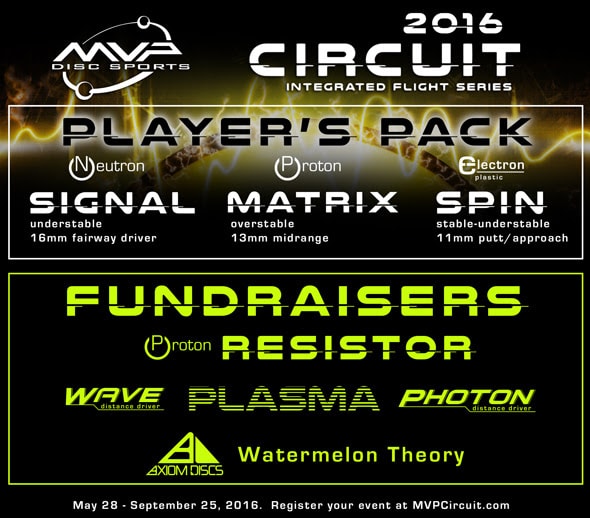 Register NOW for 2016 Circuit Event Season 5/28 – 11/25
The 2016 MVP Circuit Series is now open for event registrations!  The events themselves will run between May 28 and September 25 this year, so there's plenty of time to organize and promote an event for the beginning of the series.
PLAYER'S PACK
Neutron Signal
Proton Matrix
Electron Spin
CIRCUIT FUNDRAISERS
Proton Resistor
Plasma Wave
Plasma Photon
Axiom Watermelon Theory
more to be announced
PRICING
Wholesale Player's Pack $21
Recommended Entry Fee: $30
regular shipping costs apply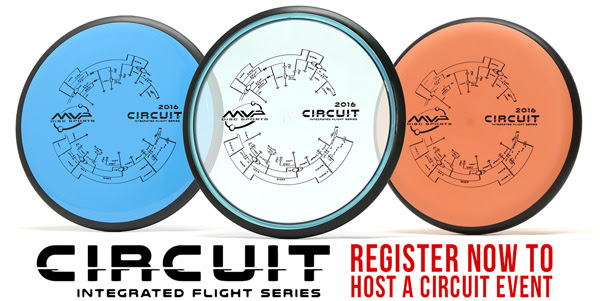 The Player's Pack will include three discs: Electron Spin stable-understable putt/approach, Proton Matrix overstable midrange, and Neutron Signal understable fairway driver.  All three are brand new models never before seen!  This year's Player's Pack has been designed by golfers for golfers of all skill levels.  Advanced players can extend the utility usage of the Signal and Matrix to carve lines and play the winds, while newer players will have an easy straight driver and an extremely versatile midrange.  The Spin putter is long and straight at putt and approach speeds, flips up on longer approaches, and exhibits a nice turn on faster driving shots.  The Spin and Signal have already been PDGA Approved for use in tournaments, and the Matrix will soon be submitted for approval.
As with the 2015 Circuit, extra models will be offered to Circuit Event Directors at a great wholesale rate.  Directors may order individual extras of any Player's Pack disc, as well as regular production models and exclusive fundraiser models.
Proton Resistor, Plasma Wave, and Plasma Photon will all be offered to Directors with the 2016 Circuit stamp. Additionally, Circuit Directors will have access to the Axiom Discs Watermelon Theory, a stable-understable midrange from MVP's sister company in the classic collectible Watermelon stamp and Proton red core and green GYRO™ rim color combo.  Each of the MVP discs is currently planned to remain as exclusive fundraisers for the Circuit and other fundraising offers, with no regular production release until the end of the Circuit season.
The Plasma Wave, Plasma Photon, and Watermelon Theory will be made available during 2016 to select event fundraisers.  If you have a disc golf fundraising opportunity, contact us with details to get the plastic rolling!
Pricing and consumer value are planned to remain the same from last year's Circuit, with organizers paying $21 per pack and a recommended entry fee of $30.  Player's Packs will include three discs and a few accessories to be announced, total valued at over $65.  These are great fundraising events for clubs and businesses!
The MVP Circuit is a series of branded events introduced in 2015. We provide an easy to run "event in a box" featuring exciting new and exclusive merchandise at best-tier wholesale prices and the supporting website to list events and help connect you with players. The event is designed to celebrate the MVP brand for our existing fan base and introduce new players to the brand with a mix of fun side games and competitive disc golf. Hosting an MVP Circuit Event at your local course brings revenue from entries and exclusive merchandise, and builds your repeat buyer base.