September 12, 2014 Uncategorized
Axiom Artist Series – Mike Inscho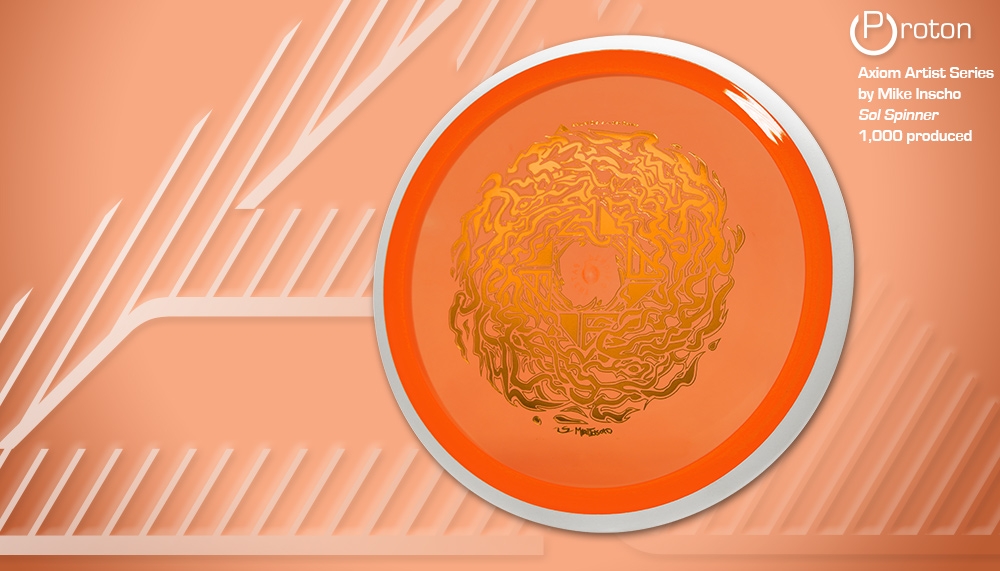 In early 2010, MVP Disc Sports ran their first and only logo contest, with submissions from myself and Mike Inscho selected to form the basis of the Proton Ion hotstamp. I joined MVP and Axiom as in-house artist and became a huge admirer of Inscho's work in fine art and design. With the launch of Axiom Discs, the aesthetic wonderland companion to MVP Disc Sports, I was excited to bring in fresh DNA and feature some of my fellow disc golf artists. There was no question as to who would be first to bring life to the Axiom Artist Series – our old buddy and GYRO™ thrower Mike Inscho. Here's a brief interview I conducted with Mike about his artwork and the freakin' awesome Sol Spinner Clash design.
– ZAM
Hey Mike, thanks for talking with us. You've been a pro artist for a while now — could you describe your art background and career highlights, as well as an overview of your go-to mediums?
Sure. Thanks for having me. I've been in the art industry for 7 years now. You barely ever stop and count the years when everything gets rolling. I received an Associates in Applied Science for 3D Animation from the School of Communication Arts (now called Living Arts College) in Raleigh, NC. My goals were use the tools I learned in school and become a 3D modeler actually. I wanted to create assets for video games. Raleigh is loaded with a lot of talented game studios and artists. Right out of school, I went out and landed an internship at a local studio as a World Builder artist. My first job was to take all of these 3D buildings and props and populate a PC game called "Fallen Earth".  It was a post-apocalyptic sci-fi massive multiplayer online game. I loved Mad Max and Blade Runner growing up as a kid so it was so awesome to land this as my first gig. An opportunity came across the office about revamping the game tutorial mission. The art team would need a set of storyboards to put these new ideas to paper. I said I'd do it and the rest was history.  The act of volunteering for simple storyboards led to more opportunities with concept art for the game. My first ever concept was a dog house.  No joke.
This stamp is definitely a career highlight. I definitely did not see this day coming and I thank you all for that. It's pretty cool to see the atom and "Ion" typography still being used for the MVP Ion. Other career highlights were the release of Fallen Earth Online game, The expansion pack "Blood Sports" that followed. Having the privilege to handle a lot of the advertisement marketing for the game was really neat. I worked on a prototype alpha for a Farscape MMO which had really great team of artists, writers and programmers but the resources dried out.
Currently, I work digitally for most of my art. Adobe Photoshop is my bread and butter. I will use 3ds Max and Google SketchUp too as an aid to help any perspective issues I might encounter. So those 2 years of school still help out. That was a long answer for the first question. I apologize.
Ha, good answer! Your work seems extremely disciplined, almost meditative in its depth and efficiency.  Unlike the average professional artist, you're a United States Marine (and thank you for serving).  Does that background have an influence on your artwork and process?
Thank you. It really stems from experience. You learn a lot from the different jobs and tasks you're counted on to get handled. Time is money. So it doesn't make sense as an artist to sit there spinning your wheels or going around in circles. The Marine Corps taught me invaluable lessons on the simple things in life. I grew up fast when I was in the service and can't thank that experience enough. I think it definitely has an influence on my process. Artwork influences go way back to when I was a kid, hanging out with my dad. I try to discover new stuff all the time. "Expand the visual library".
I was super psyched to give you a blank slate for this design — between your interests in cars and skateboard art and monsters, it was bound to be funky.  What led you to this fiery spinning sun design for the stamp?
Haha. I was super psyched to get the opportunity. This is amazing.  I want to thank my dad and close cousins for the hot rod love. Seriously though, I grew up around hot rods, dirt bikes, Ren & Stimpy and Garbage Pail Kids trading cards. I blame it on that. I was an absolute nerd.
The idea for the stamp was simple. I knew the disc design would be released around summertime. The first thing that came to mind was the heat. I love disc golf, I really do. Besides an absolute downpour while playing in a tournament, the extreme heat of the summer can just about shut down anyone. I wanted to create an abstract idea of that thought and have it play off the idea of momentum.
We've done a few special discs at Axiom where the "design" included the stamp art, core color, and rim color.  Following that idea, we had you pick out the color scheme for your design.  How did you arrive at the decision of orange core and white rim with gold foil?
It was a mix of two deciding factors. What would correlate between the design and color? When I think of the sun or heat, I think of a series of warm colors. Orange, Yellow, and White. Yellow got axed because of personal favorites. I bag a lot if not all, Orange discs. They're easy for me to spot.  Once I knew what the graphic was going to be, it was an easy decision.
I've seen a lot of gold stamping in the past for limited edition discs at tournaments and always wondered why MVP/Axiom Discs didn't have any! I mean, how cool is gold foil!?  So, I bravely shot the request out there and was shocked when you all said sure. That was definitely a bonus to an already amazing gig.
You've worked in the gaming industry as a concept artist.  What is that process like, and how much creative freedom do you have in that role?  Are there any characters or landscapes in a game where you'd holler "that's me!"?
That's seriously the best feeling any game artist could have. The industry can be brutal sometimes but it's really about getting your ideas out to the fans; that gives you that fuel to keep on doing it. I've had the honor of working behind some really talented art directors and artists. The best ones know your skill set and can push you to create art you wouldn't have thought possible. There is definitely creative freedom in concept art but you and everyone else knows a solid idea vs. a crappy idea. Getting ideas shot down happens all the time. Some are harder to chew but that's the business you're in. It's all about giving your client what they want and pushing the bar.
The "That's me!" moment happens more often when the concept design is in the hands of the 3d artist. To see those initial ideas start coming to life is why I love doing what I'm doing. By the time product is out, we're on to bigger and better things. So during production is where it really hits home.
From your work and interest in the gaming industry, are there any trends or quirks that you think disc golf should take notice of?
I really do think disc golf is getting there. The talent of artists, photographers and cinematography is climbing every year. New people from outside disciplines are jumping into the scenes. Merchandise is getting much better. People are bouncing creative ideas off one another and while some say that's copying; I think it's the only way we're going to improve upon what's here. I think packaging and design are the most important and definitely glad to be seeing companies thinking about those things now.
Appeal to the younger generation. They are the ones that will carry the torch when we're all brittle and can't play anymore. Back in the 60-70's it was bright color, toon shaded characters that caught the eyes of kids and teens looking to get their first skateboards and cars. I'm too old to know what the trends are with youth right now, but I say you need to market to them. The love of bright and flashy stuff will always be there, so the idea is still applicable.
Making art and playing disc golf are all about planning and execution (with bonus for style points).  Has one ever taught you a lesson about the other?
Absolutely!  In short, you think about your options and how to get through the obstacle with the least amount of throws. I think they both work in parallel. Great question.
And finally, if we may mine you for great ideas here, what would be your dream Axiom model in style of plastic, flight character, and look?
Oh man…..
The "Channel" – Understable putter. Firm Base/Neutron blend of plastic. A low rim depth (1.6 cm).
Something that handles the delicate, low powered shots. It should fly straight to understable with ease. Comes with many color options (as usual) and introduces holographic foil into the lineup. Easy enough, right?
Thanks again from all of us at Axiom Discs for producing the Sol Spinner!
Not a problem at all. And if I can say one more thing, It really was an honor being able to start off this Axiom Artist Series. You all have something good going on here. I look forward to seeing what other artists can do to raise the bar. Progression is what it's all about. Thanks so much.
Click to view some amazing work at Mike's site: Art of Mike Inscho