November 28, 2014 Uncategorized
Axiom Artist Series – Skulboy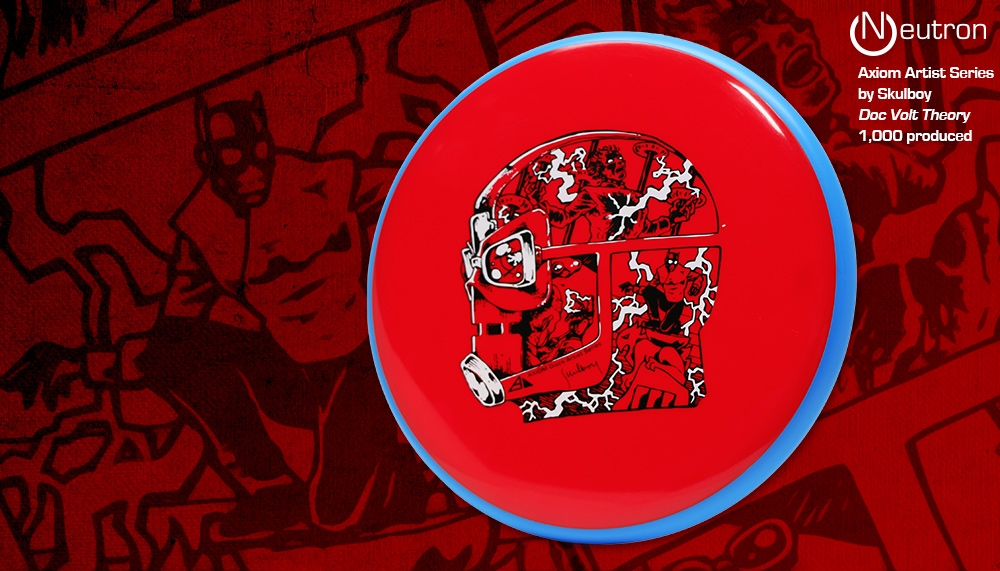 The disc golf world has been graced with the peculiar presence of Skulboy for about five years now. By day he sculpts for blockbuster movies. By night he makes ridiculously good disc golf art. He's the superhero disc golf artist the sport needs. His distinctive hand-drawn stamps began popping up on SoCal tournament stamps and the trader market, then came a prolific series of Latitude 64, MVP Disc Sports, and Legacy Discs models with custom Skulboy stamps. I've followed Skulboy's stamp work since the beginning, so this Artist Series project began with a fanboy's dream list… everything I'd love about the ultimate Skulboy stamp. The Doc Volt Theory he delivered was beyond my expectations, and absolutely a groundbreaking Skulboy design. Here's a quick interview I did with Skulboy about his background and this stamp.
– ZAM
How did you get into disc golf, and what is your superpower out on the course?
I was a casual, 2 disc player for ages while living in Rochester, NY. After moving to Los Angeles in 2000, I gradually hunted down some local courses. In 2009, Bamba Rico gave me my first disc stamp assignment for a tournament. I drew the stamp, played the tournament and got more hooked on the sport than ever.
On the course, I don't have the biggest arm so my DG superpower would be approach shot accuracy.
Your origin story is pretty interesting itself, sculpting for movies and TV before bringing your style to plastic. What lessons from your sculpting career have influenced your stamp work?
Before becoming a sculptor for the Movie Industry, I have a history in black and white illustration where I refined my style of line weight, textures and composition. Then, once I started working as a sculptor on TV and movie sets, I started thinking more about environments and what was behind the characters. After I was art directed by Production Designers that wanted more drama and shadow in their sets, I brought that lesson over to plastic too.
You've produced a ton of stamps featuring dark fantastical characters, always with a sense of story and context, and the lightheartedness of comics and monster movies. Could we ever expect to see a more long form exploration of a character like Doc Volt in a comic?
The idea is always there, but finding the time to flesh out characters in comic-book form is the hard part. Doc Volt would be perfect for it so never say never.
I'm in talks currently with more than one party about creating some comic-book pages… and one of them involves Disc Golf. Stay Tuned.
In addition to all your stamp output you've begun to bring sculpture to your disc golf art with awesome cast resin trophies and minis. Do you have any future plans you can reveal?
In-between work on films, I try to dive into projects to stay busy and keep Skulboy Designs moving along. I am definitely going to keep trying to bring sculpting to Disc Golf in one way or another. One idea (that I have spoken about with a certain disc manufacturer) is to take the sculpted mini to the next level and have it manufactured in plastic. We'll see.
You chose the classic red-blue-white-black palette for this design, and I love how it evokes that comic book vibe. Could you speak to how those colors resonate with you personally?
I can't really explain it. Candy apple red, baby blue, black and a hint of white on the same canvas have always been my go-to colors. I need someone else to figure out why that is.
The "Doc Volt Theory" stamp is a phenomenal design, one of your best, and I say that as a longtime admirer of your stamp work. At the outset of the project I gave you a list of my favorite Skulboy stamp attributes, like character narrative, texture and lighting, and engaging composition, and suggested a Doc Volt origin theme. You wove all that in so brilliantly, in ways I never imagined. Tell us about your conceptual process for this. How in the world did you come up with comic panes inside a helmet portrait?!
Yes, it was a tall order and all had to happen in a 5.5" circle.
I had been playing with a stamp composition utilizing the human profile in the circle format for a month or so before this project popped up and thought it would be a perfect fit. I had also at one point thought of the idea of doing a one page origin comic page for Doc Volt. Adding the 2 together seemed like the solution. A Batman comic splash page by Dick Giordano from the 70's has always stuck me and was the sub-conscious influence.
Thanks a million for taking on this project with Axiom Discs, I speak for all of us when I say we couldn't be more thrilled with the outcome!
Completely my pleasure. I'm very proud of the end result and working with the Axiom team was awesome.
Click to view some amazing work at Skulboy Designs and support the artist through the Skulboy Web Store