January 10, 2014 Uncategorized
Axiom Discs Announced!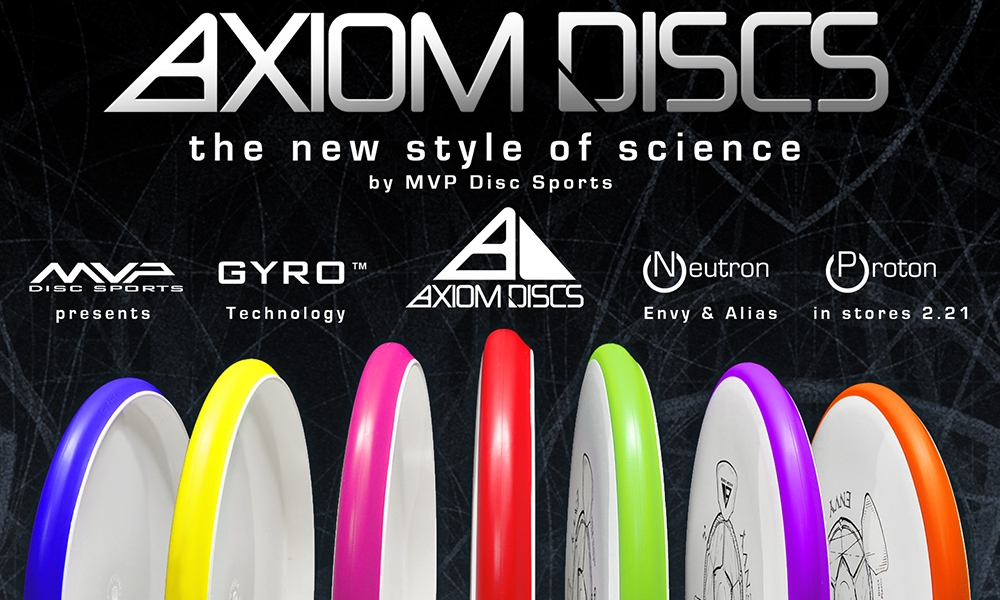 MVP Disc Sports Begins a New Era
January 10, 2014
MVP Disc Sports has come a long way since the debut of our famed blue and red First Run Ion.
Today, we're pleased to bring something back from the beginning.
Introducing Axiom Discs, by MVP Disc Sports.
MVP's signature GYRO™ rim was engineered for performance — the dense overmolded rim and seamless aerodynamics serve to maximize the potential of a flying disc. Add basic golf disc science to high-tech molding, and it looks like GYRO™.
Science gave us the look of GYRO™. But the funny thing about science — sometimes it looks sexy.
Axiom Discs brings a new focus on style, with vibrant color combinations of GYRO™ rims on Neutron and Proton, new stamp series and foils, and a unique set of disc models to complement the MVP lineup. Axiom gives players more options for GYRO™-enhanced discs, whether for colors, flight profile, or feel.
Two new models will kick off Axiom Discs for 2014 – the Neutron Envy Putt & Approach, and the Neutron Alias Midrange. Proton releases of both models will follow soon.
The Envy is a stable-to-overstable putter with a beefed-up wing and slightly lower cruising speed and profile than the Ion/Anode class, making it high-speed stable with a dependable drop.
The Alias is best described as a stable Tangent. With a straight-stable high-speed portion and a little bite at the end, the Alias is a great placement midrange for hyzer, straight, and anhyzer lines.
Axiom Discs will be produced and distributed by the team at MVP Disc Sports, and MVP's signature GYRO™ rims will remain classic black and Eclipse™ Glow white.
The aesthetics of our GYRO™ rim coupled with premium central cores have always had an appeal to throwers, disc dyers, and custom shops. The creative community in disc golf has embraced the look of GYRO™, and we look forward to seeing these throwers and artists bring Axiom's colors to life!
2014 has many developments and releases in store for both MVP and Axiom Discs. We sincerely thank our fans and distributors for all their past and future support — we are fellow disc golfers seeking to elevate the game we love, and it's an honor to feel that love come back from the community.
Best Regards,
The Teams at Axiom Discs & MVP Disc Sports