January 1, 2015 Uncategorized
Electron Experimental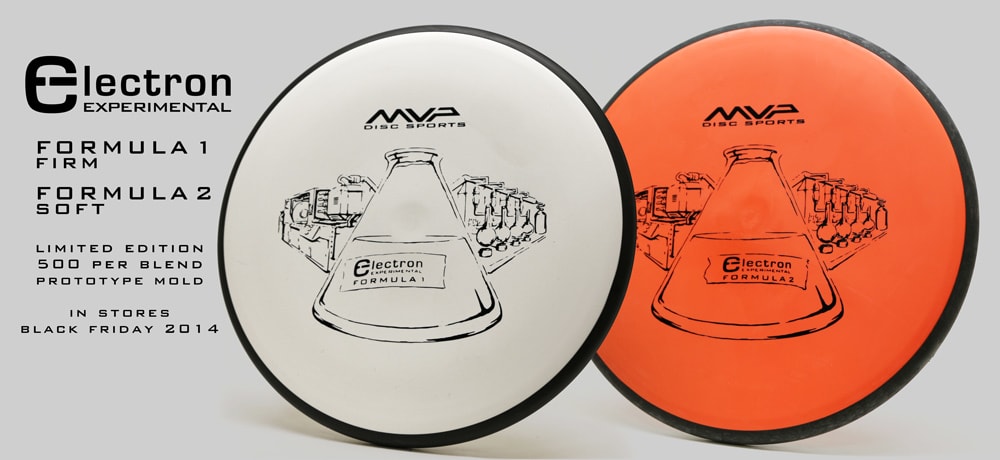 MVP Disc Sports has traditionally produced only high-durability premium plastic discs. However, we are keen to the desirability of a "baseline" plastic's performance qualities, particularly in the putt and approach class. Although baseline has a traditional stigma as "the cheap plastic", for many players the feel and break-in of a baseline plastic is superior in narrow-rim classes.
Years of experimentation and testing have gone on in the background of MVP's rise to fame as a premium plastic brand. We're pleased to let the fans in on our best-kept secret: Electron Plastic.
Electron has been crafted into the two classic blend profiles of firm and soft, presented here as Experimental Formula 1 (firm) and Experimental Formula 2 (soft). These are pre-production blends which may change before a future production run of Electron Plastic, and feature a unique surface texture and look not found in MVP offerings. In particular, the GYRO™ rims feature an experimental vapor-honed surface that aids in the optimal baseline feel.
Additionally the putter mold used for this Experimental edition is a prototype model. No, it isn't called the Prototype, it's a yet-unnamed prototype putter we've been testing. The mold is based on the Axiom Envy, with a beginning stability slightly less overstable than the Envy. As the mold breaks in, it becomes a very straight floaty GYRO™ putter. Collectors will have a genuine pre-engraved pressing of the mold, as it currently has no factory marking or logo engraving on the rim, consistent with our in-house test pressings used during development. As a prototype, this mold is currently NOT PDGA Approved. It's worth noting that the bulk of this Experimental edition weighs in the high-160s.
Just 500 of each blend have been produced for this Experimental edition. We hope the fans enjoy such a unique introduction to our work with Electron Plastic, as we gear up to roll it out in production for 2015.