March 26, 2015 Uncategorized
MVP Circuit Challenge Announcement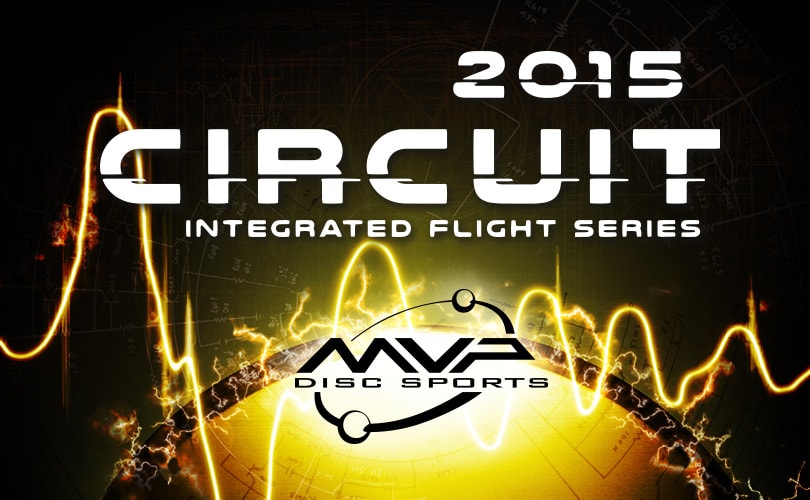 Introducing the MVP Circuit
Since its founding in 2009, MVP Disc Sports' growth has largely been word-of-mouth over the web and on the course.  Read a few experiences from players, or throw the discs yourself, and you'll see what the hype is about.
Now in 2015 MVP has the disc lineup and fan following to demand a branded event that brings MVP throwers together and introduces more players to MVP.  Enter the Circuit Integrated Flight Series.
The Circuit is designed to be fun to play and easy to host. With a Player's Pack worth over $60 including three discs and MVP swag, the recommended entry fee of only $30 is a bargain.  Event Directors have the opportunity to put their unique mark on each Circuit event while raising funds and moving merchandise.
Additional Circuit-stamped models will be available for merchandise and payout, including NEW Photon and Wave distance drivers, and Circuit-exclusive Plasma Tesla and Plasma Inertia.
We invite you to explore MVPcircuit.com for further details on the event format, Player's Pack, and hosting information.
Date range of availability for the Circuit is June 19 to September 27.
Player's Pack
The Circuit Player's Pack includes three discs and an MVP wristband, koozie, and vinyl sticker swag pack.  Retail value of the combined items is over $60, with a suggested entry fee of only $30.  Event Directors' price per pack is $21.
Three weeks prior to your event date, we will contact you with an order form for your Player's Packs, Circuit-exclusive discs, and stock MVP/Axiom discs.
In addition to the Player's Pack discs, additional Circuit-stamped models will be available for purchase.  The highly anticipated Photon and Wave 21.5mm distance drivers, Circuit-exclusive Plasma Tesla and Plasma Inertia, Plasma Ion, and a top secret disc to be revealed soon will all be available with the 2015 Circuit stamp, as well as additional Player's Pack models.
Click here for more info about each Player's Pack disc.
Wholesale Price: $21
Suggested Entry Fee: $30
How to Host
See details about hosting and registering your event on our Host a Circuit page.
Event Coordinator's Pack
There you will find information and this registration form. Upon approval, we will add your event to the Circuit website, which will include a calendar and regional search tool.  Minimum registration for a Circuit order is 25 Player's Packs.
Player registration method is up to you.
During your promotional period, you may collect player registrations and poll your players for what kind of extra merchandise they might want.
Three weeks before your event we will provide you an order form for your Player's Packs as well as additional merchandise.  Some of MVP's most anticipated releases ever will be available with Circuit stamps, as well as initially Circuit-exclusive Plasma Tesla and Plasma Inertia.
If you have questions you may call Zach in Sales & Marketing at 844-MVP-DISC (844-687-3472) for personalized assistance.
Sponsorship Offer: Axiom Discs Watermelon Proxy
Axiom Disc's infamous Watermelon series grows in 2015 with the Proxy putt & approach, and you could get some to benefit your event!  Our rabid fanbase will be eager to buy these pre-release collectibles online or in person and help fund your event.  For a limited time the Watermelon Proxy will have selective availability for tournaments, so check with us about qualification of your event for this custom fundraiser opportunity.