January 4, 2016 Uncategorized
MVP Electron Ion & Electron Soft Ion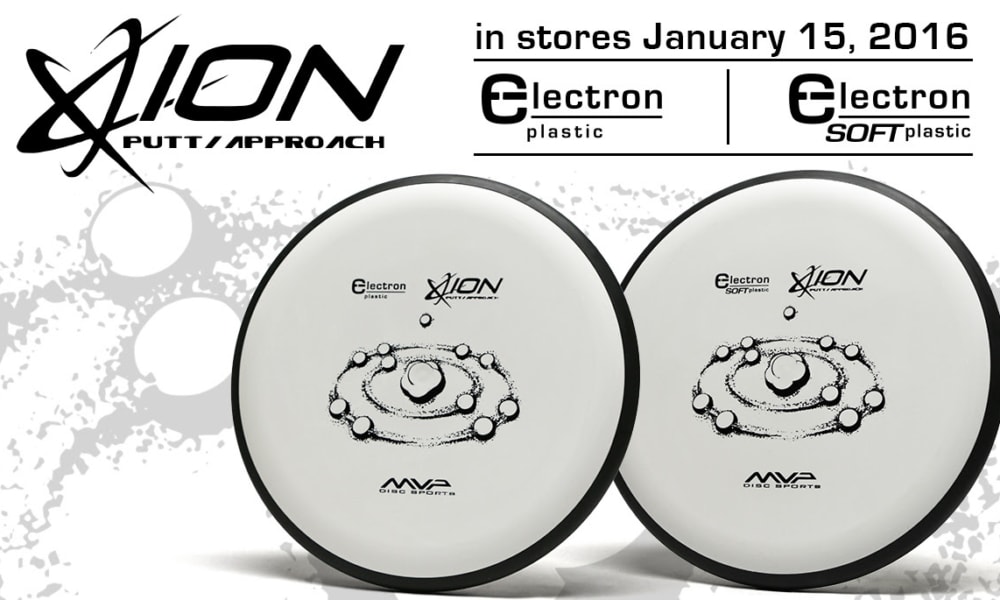 MVP Electron Ion & Electron Soft Ion
The First MVP Disc, NEW in Baseline Electron Plastic
To kick off 2016, MVP's seventh year, we are proud to introduce the Ion Putt & Approach in both Electron Medium and Electron Soft plastics.  The Ion has a beaded wing design with a deep-dish feel and is highly regarded as a stable driving and putting disc.  In Electron plastic the Ion is best suited for putt and approach, though its superb grip will be indispensable for players in adverse weather conditions.  As the Electron Ion's bead wears down with use, the Ion's natural overstable fade will diminish, and the more neutral-stable flight will begin to resemble the MVP Anode putter.  The Electron Ion is a monumental release – the very first MVP model, finally available in grippy wearable baseline plastic, with the backing of a comprehensive lineup in die-hard premium blends.
This is the type of release that players buy in stacks, so make sure to stock deep on these.
The Electron Ion is without a doubt the most highly anticipated putter release from MVP ever.  The Ion was MVP's first disc – a breakthrough overmold disc construction that took a familiar disc shape to the next level.  For over a year MVP and its reputation were built entirely upon the Ion, and the sheer performance of this putter is what allowed MVP to continue developing and become an influential force in disc technology.

Fast forward six years and MVP has produced a broad-spectrum lineup of models from putters to high speed distance drivers in a handful of highly durable premium plastics.  The lingering question among fans was, "will MVP ever make baseline?"  Baseline plastic seemingly went against all that MVP stood for based on releases of only premium, highly durable plastics with unchanging flight characteristics.  However the true goal of MVP's disc design is to produce the equivalent of an electric sports car of golf discs, and this includes a high performance grippy and wearable baseline plastic.  Fans got their first taste of Electron baseline plastic at the end of 2014 with two experimental blends, followed by the regular production Electron Atom putter in early 2015.  The most requested Electron followup was, by far, the Ion — now available in Electron (Medium) and Electron Soft.