March 11, 2019 Uncategorized
MVP Launches Signature Series with Elaine King Fission Photons!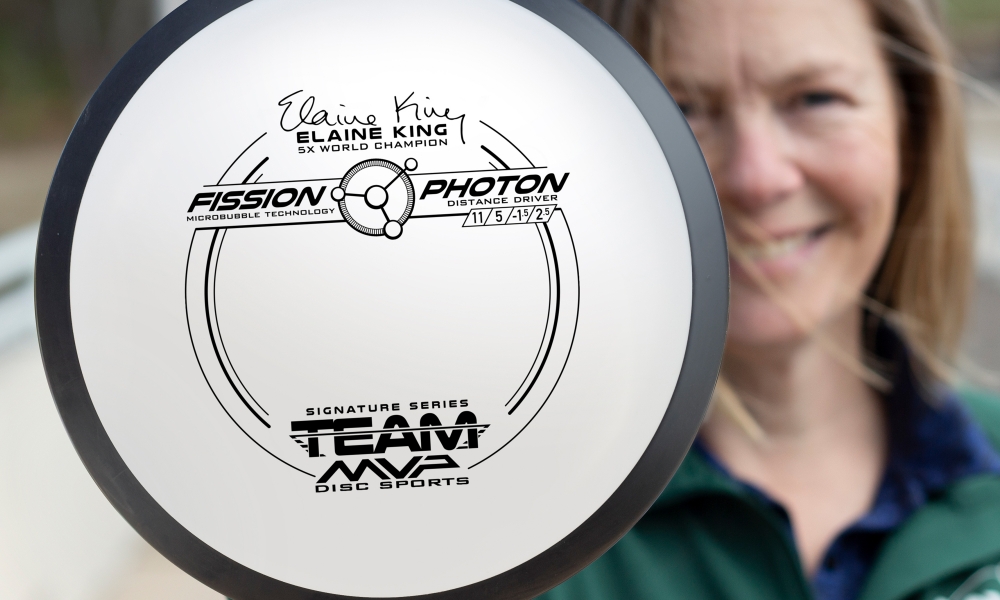 MVP Fission Photon – Elaine King Signature Series
MVP is proud to announce the first MVP Signature Series Disc, the 5x World Champion Elaine King Fission Photon! This is the newest stock run of Fission Photons, with weights ranging from 140g to 175g. Fission plastic pushes the bounds of GYRO® Technology with grippy ultra lightweight cores and durable weighted rims. The Stock stamped disc now displays Elaine King's signature above the traditional information in an MVP classic matte black style. The Fission Photon has been in Elaine King's bag since joining Team MVP in 2018 as her go-to distance driver. The release of the Signature Series disc marks the beginning of a new era for Team MVP and we are proud to have Elaine King with us. A portion of each sale will benefit Elaine King and her touring efforts. The 5x Elaine King Fission Photons are ready to be your go-to stable distance driver this season.
Speed: 11 | Glide: 5 | Turn: -1.5 | Fade: 2.5 
Available Weights: 140 – 175g
"A signature disc is widely regarded as a recognition of the highest level of achievement in disc golf. It feels absolutely incredible to see my signature on the Fission Photon and have my long-time dream realized. This honor is even greater since my name is on the very first signature disc from MVP. The support and encouragement I have received from MVP staff, team and GYROnauts this past year has been overwhelming. I am proud and delighted to throw MVP plastic."
-Elaine King