July 30, 2019 Uncategorized
Team MVP Interviews: Jennifer Sawyer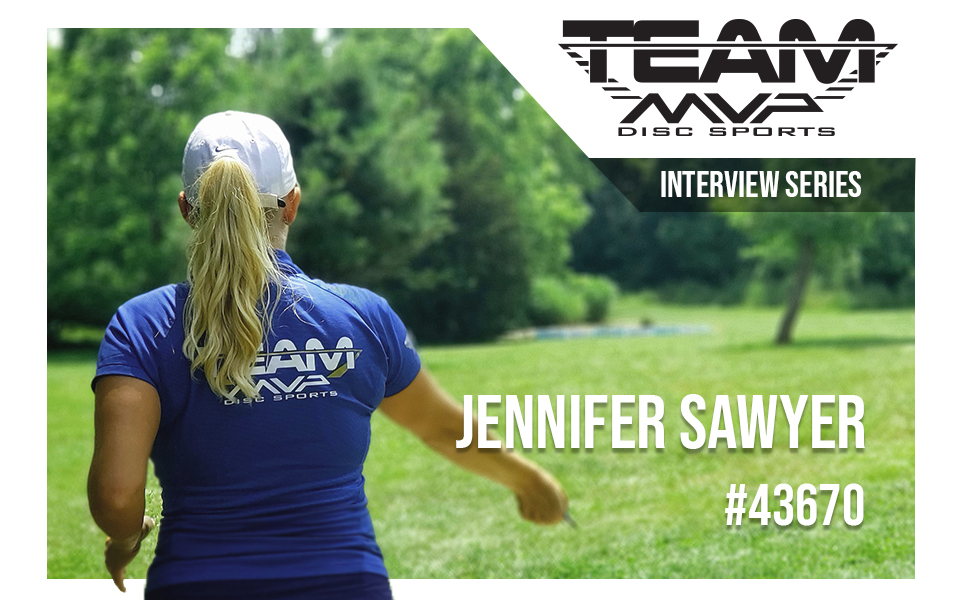 Get to know Team MVP Ladies Captain Jennifer Sawyer!
Significant dates to your disc golf experience:
I started competing in PDGA events as an amateur in 2010 and then moved up to FPO in 2014. My first win in FPO didn't come until late 2015. It was a struggle but I learned so much that first year.
Follow up: Joining Team MVP, and how has the team changed since the beginning?
Joined Team MVP in 2015, right after the first Gyropalooza where I met Brad and Chad. It was right when the Wave came out, which I fell in love with immediately. So I contacted Brad and Chad to make sure I could use it in tournaments, and they asked if I wanted to join the Team. At the time the Team was still pretty informal. I was the first female team member and was even before Steve!
What is your go-to most trusted disc in your bag and why?
Definitely my Plasma Envy. It's my most used and trusted approach disc.
What disc is the best-kept secret in your bag and why?
Plasma Servo. I just love this disc, it's a great line shaper and I feel like it doesn't get the love it deserves!
What are some of your short and long term goals in disc golf?
My short term goals would be to put up more consistent rounds at events. I tend to have large swings between rounds. I've been off to a great start with hitting this goal so far this season! My longer term goals are to increase women's participation in tournaments throughout Michigan.
Follow up: More about Michigan Women's Golf?
I would like to see more turnout in Women's leagues. Starting at the club level will help grow tournament participation. Especially when women throw with other women they will stop comparing their throws to the guys' and realize they're not as bad as they might think they are. It is so important for new women to throw with other women for this reason. I believe keeping women's leagues more casual and fun will bring out more new women. Most of us got into this sport because it's fun and the competition came later. Hosting fun events such as date night doubles can encourage women to come out and play with the guy in their life. It helps to meet other disc golfers in a more comfortable way. It makes it fun and takes away the pressure of showing up to something new where you might not know anyone. Then hopefully they will want to go out and play on their own or join up with the other ladies for rounds!
Do you have any advice for developing players?
Stop throwing high-speed drivers! Just because they're pretty doesn't mean they're a good match for you. Stick with putters, mids, and fairways. You really do not gain more distance with higher speed drivers if you don't have the power to throw them.
What did you throw before joining the team and how would you say that experience or transition has been for your game?
I threw a pretty mixed bag before joining Team MVP, mainly Innova and Discraft. I putted with XDs for about as long as I've been playing. I was thrilled when the Atom came out, it was a very easy transition there. Putters are so personal I think it's the hardest thing to switch so I felt very fortunate. As soon as I had an Electron Atom in my hand I was in love.
I putt with my 2018 and 2019 J-Saww Soft Atoms. But the Cosmic Electron Atom will likely make its way into my practice putter arsenal.
What makes a good disc golf course good?
A good disc golf course will challenge every shot in your bag. Also, manicured fairways and course amenities help too!
Home course / favorite course?
My home course is Oshtemo Longs. It's a beautiful and challenging course. Even par is right around 1000 rated. I have a lot of favorite courses, it's hard to choose, but I love WR Jackson at the IDGC
Which course would you play more if you could?
All of them! But seriously I want to play on the west coast. I've never played further west than Colorado.
Follow up: Any specific west coast courses or events?
Beaver State Fling, definitely want to play those North West courses. Memorial is also on the list, but coming from Michigan, it's a hard transition to play well so early in the year when we've been playing in snow for so long!
With many new 2019 releases, what is making your bag?
MVP Entropy – Utility disc, and none of the others so far. I'm a GYRO purist over here.
Other:
I've been sworn to secrecy
Anything you would like the fans to know about you?
Something not a lot of people know about me is that I'm a huge classic movie fan. If my TV is on it's likely on Turner Classic Movies. You might be surprised how many "new" movies are actually remakes.
To keep up with Jennifer Sawyer, follow her on Facebook and Instagram!